Completion and commissioning of Mongolia KHUTUL 2500t/d Cement Plant contracted by Jiangsu Pengfei Group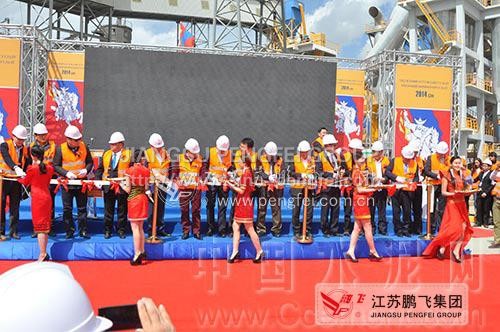 On May,14,2014, MongoliaKHUTUL Cement Plant——2500t/d clinker cement production line project which was undertaken by Jiangsu Pengfei Group held a celebration ceremony for production. More than 100 people from all walks of life in Mongolia took part in the activity. PrimeNorovAltankhuyag made a speech as the project was completed and put in operation and participated in live production ribbon.
PrimeNorovAltankhuyag showed thanks to Pengfei for finishing the project on schedule and with high quality. In his speech, he said, "I express certainty for the project with good management, fast project progress and high construction quality and encourage more Chinese enterprises to make contribution to the cooperation of China and Mongolia."
MongoliaKHUTUL Cement Plant has a wholly owned investment construction from MongoliaBasementInvestment Co., Ltd and it is generally contracted by Jiangsu Pengfei Group with a total amount of contract value of 240 million yuan. The project officially started on June, 8, 2011. Pengfei overcame various unfavorable factors, well-organized everything and finished all work: early exploration, technical design, equipment manufacturing, equipment transportation, site installation, commissioning and so on. In November, 2013, it was put into trail operation. It has anon-site 72 hourscomprehensive performance test from April, 28, 2014 to May, 1, 2014 with an average amount of cement-3200t/d. The owners were very satisfied with the production standard test.
Commissioning of the projectmarks Jiangsu PengfeiGroup has taken a solid pace within "going out" strategy and it is another milestone for our company implementing turnkey projects abroad.After preliminary careful preparation and market research,Mongolia Basement Investment Co., Ltd and Jiangsu Pengfei have signed two contractswhich update 600t/d wet kiln production lines to the technology of new-type drying method. It successfully led the Chinese technology, mechanical and electrical products exports and laborers output and is in line with the national "going out" strategy required for Mongolia, providing 500 jobs, alleviating Mongolia current situations of higher cement prices, instablequality and market shortage and promoting infrastructure development in Mongolia.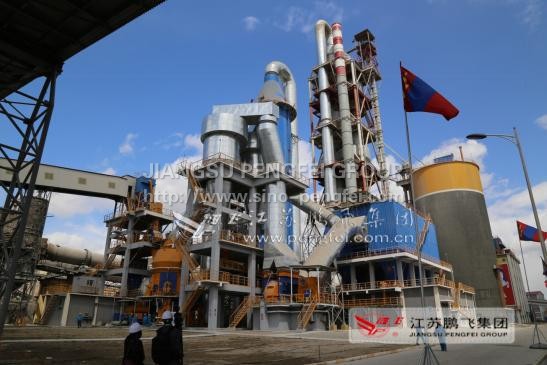 工程全景